I love wearing bright colours and red has to be my favorate. This color is especially good for women with a warm skin tone like myself, as it brightens up your complexion and makes you shine even more.
However, even if you have a cooler skin tone, you can still wear this color and look amazing.
There are many ways to wear red. You can can wear red in a subtle way by wearing a red accessory or you can make a bolder statement with the color. Whatever your comfort zone with the color red, there is a way to add this color to your wardrobe for everyone.
Let's explore all the different ways on how to wear red!
The easy way to wear red – combine with one other color
Wearing a bold color like red with just one other color is your easiest option and one of the nicest and easiest options by far is to pair it with white. It's also one of my favorite combinations.
Red with white
The perfect combo for Summer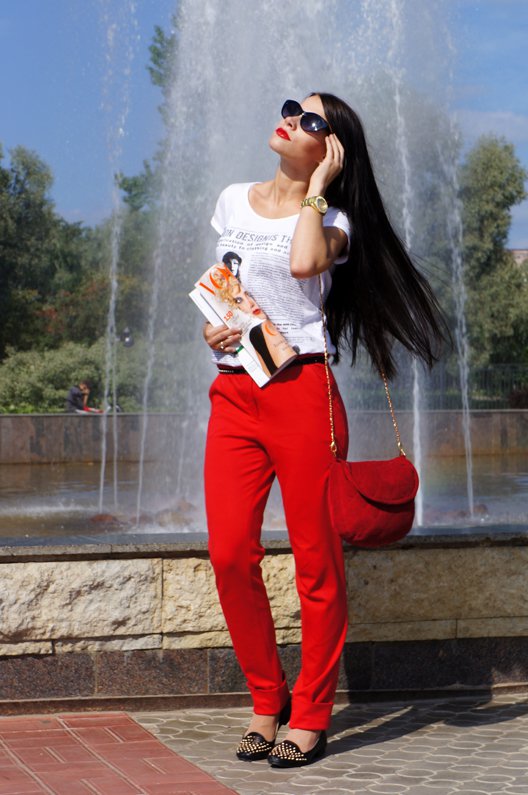 Red and white looks chic and understated.
Red with black
Add black for a more rock n roll look
Red with blue
Red and blue is another versatile combination. Perfect with some great blue jeans!
Red with purple
More unusual is red with purple, but it is actually a really good combination as this look shows.
 
Red and Pink
Some people say this classes I say it looks amazing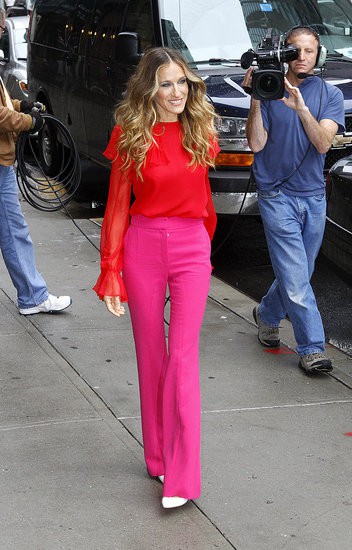 Red and Yellow
This combo is not for the faint heart – bold and daring
Adding a third color
Most looks are even more interesting when a third color is added. You can do so with an additional garment, a print or an accessory.
Red with blue and white
A very traditional and always chic combination is red with blue and white. It creates a marine look that is always in style.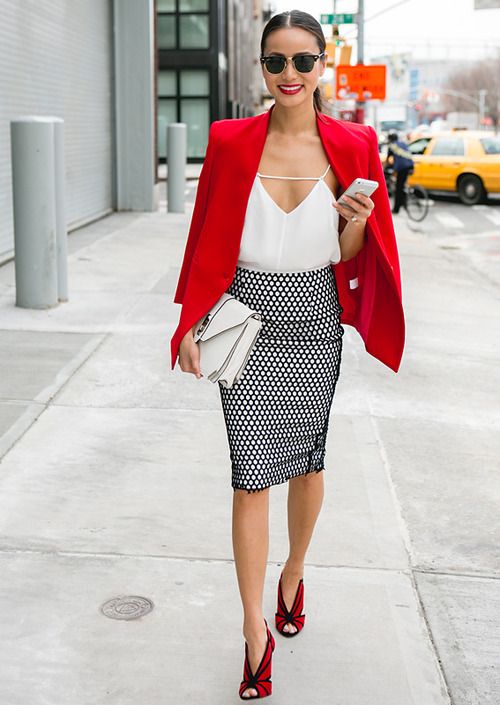 Red, white and black/gray
Black and white always works well with red and creates a more graphical look.
A more unusual combination for an arty look.
Red with camel and white/brown
A more sophisticated and chic combination
Add a print into the mix!
Adding a third color will often make your outfit more interesting and dynamic. This will be further enhance if you add some print as well. You can do that within your clothing or with an accessory or shoe.
Make a statement with head to toe red
Sometimes you just want to stand out and nothing shows more confidence to the world than an all-red outfit.
Wearing a darker red – burgundy or oxblood red
If you prefer your red to be more muted you can also opt for a darker red like burgundy or marsala (which is actually the color of the year!). Here are some color palettes for wearing burgundy.
Here is how you could apply the Curtain Closed palette.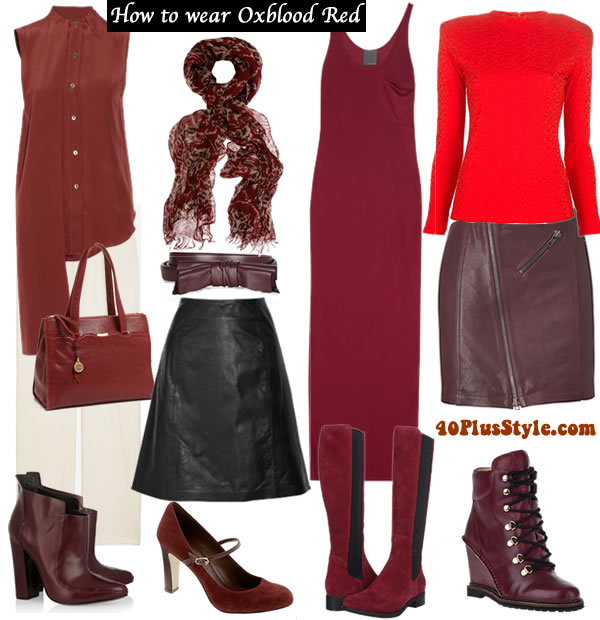 Do you find it hard to wear red? Try accessories!
If red is normally not your color or you are afraid to stand out, then opt for a red accessory. It often really brightens up your outfit and adds extra interest.
sunglasses
red lipstick
bag as a color accent
necklace
scarf
shoes- I wear my red shoes a LOT. It's so easy to make a neutral outfit more interesting by adding some red shoes!
Are you looking for more new and creative ideas on how to wear red?
If I like to get more ideas on how to combine a certain color and create really interesting combinations, I go to colourlovers. This tool allows you to see many color palettes immediately and will give you lots of ideas. Just search for red in the colour palettes search box and you will instantly get lots of different options.
Here are some great color combinations I found.
Another way to get inspiration for a great color palette or the colors for your outfit is to look at an image that you love. I was struck by this image from Yoox. This image actually inspired this article!
I just LOVE this color combination and feel that it's the most current and hip way to wear red right now. So I took this picture into Colourlovers and created a unique color palette from this image.

This color palette is the main inspiration for the shopping options I will give you today as I feel this combination looks chic, modern and special. I'm very tempted by many of these items, but I actually think I have the building blocks available in my closet to create this look, so stay tuned!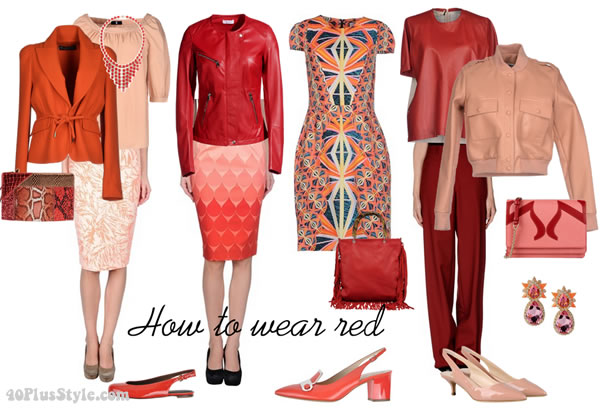 I hope this guide on how to wear red has given you some inspiration to wear this color! Perhaps you like to give it a go if you don't normally wear it. Or you may try to wear it in a different combination from what you normally do.
Here is what is available at Yoox right now. Use as inspiration and shop your own closet. If you do like to buy something and this list is outside your price range, I'm sure similar items will be available in other stores too.
So what was my take on how to wear red
Cute red dress brought from Zara dressed for the office with a blazer and heels