Best British Grub in Dubai
Being a Brit I do love going out and sampling some yummy, gourmet homemade British scran! You might not think that us Brits have the best cuisine (and you are semi right) and maybe you have sampled some shocking dishes here in Dubai but this blog post is here to ensure this does not happen again! Read on to see the abundance of best British grub in Dubai……..
1. Gastro Pubs
Senara
This place is great for a number of reasons!
Its next door to where I live! (ok so that point might just make this great for me but its defiantly worth a trip from where ever you live)
The food is amazing, the pies, the fish, the burger, the roasts – I have tried them all!
Weekly specials and happy hours abundance
Perfect deck for sun downers looking out to the palm
Easy access with plenty of parking
Can't really say anything bad about the place!
Location: Palm views, Palm Jumeirah, Dubai, UAE
Call: 04 451 64 60
McGettigan's
Why you should go:
I was so surprised with how good the food was – I just did not expect this at all. Best Nachos ever!
Largest menu choice of food that basically tastes like your mum cooked it (and your mum is a great cook!)
Great environment to watch ALL sports
Great price!
Quiz nights on Tuesday, Ladies night on Wednesday, great brunch deals on Firday, life music and more….
Location: Various located around the UAE
Call: 04 37 80800
D&A – Dhow and Anchor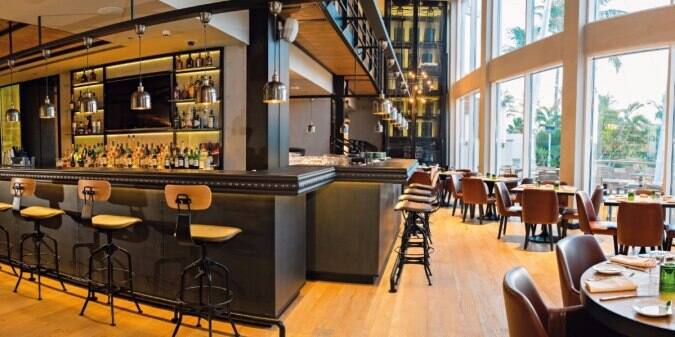 Things you will Love:
Open daily for lunch and dinner, and for breakfast on the weekends, D&A showcases a remarkable menu that captures the essence of a 'modern British' restaurant and bar
Great spot for weekend breakfast
Amazing roast of the day and Fish & Chips
Pub quiz
Happy hour discounts daily from 15:00 to 19:00
Lovely terrace area with view of the Burj Al Arab
Easy to access via JBH and free valet parking
Location: Lobby Level, Jumeirah Beach Hotel
Call: 04 406 8720
Reform Social & Grill
I think this place is wonderful and here's why:
Great atmosphere and ambiance
Idyllic garden
First class British food and drink
Cool music
Great for friends, families and couples alike
Great Roast! Very popular so suggest booking
Wednesday curry nights (yes not British but it might as well be, the amount of curry consumed in the UK!)
In winter don't miss their outdoor cinema, catch an old classic, have a glass of wine/food and catch up with friends
Location: The Lakes, Emirates Living District
Call: 04 4542638
2. Fine Dinning
Rhodes Twenty10
Here is why you should go:
As the name suggests, British restaurant headed up by highly acclaimed Michelin-starred celebrity Chef Gary Rhodes,
Very attentive service
True fine dinner experience -you cannot fault the restaurant decor. Glamorous and intimate scene with its opulent chandeliers, black chic and just a hint of lilac.
Amazing steak and a unique twist on your traditional burger!
I love the fact that they have a shared pudding plate – gives one the opportunity to enjoy so much more.
Not the cheapest but so worth every penny
Location: Le Royal Meridien Beach Resort & Spa Al Sufouh Road
Call: 04 317 6000
Bread Street Kitchen
Things I liked:
Mirroring the lively warehouse style of Gordon Ramsay's famous Bread Street Kitchen in London,
A delectable British European menu
Curry Club – Tuesday From 6:00pm To 10:30pm
Wellington Wednesday – From 6:00pm To 10:30pm
Well known classic beverages with some more innovative and fun cocktails!
The food is absolutely delicious! Everything fresh and perfectly prepared.
The bread was the best I ever had! (And that's a bold statement!)
Staff where extremely helpful and knew the menu back to front they also shared some great stories about Gordon Ramsay!
A great brunch for families with young children as it's very interactive including a make your own ice cream sundae bar, cake decorating section as well as a make your own mocktail cart
25% discount for Emirates NBD cards (and that goes for all restaurants at the Atlantis)
Again not cheap but what fine dinner experience is in Dubai!
Trendy place to be seen
Location: Atlantis, The Palm.
Call: 04 426 2000
Fortnum & Mason
Reasons to go:
 A deluxe brassiere atmosphere for breakfast, lunch and dinner.
Eclectic menus bring together the finest food, featuring established favourites such as Fortnum's Welsh Rarebit the finest salmon and streak and some delectable deserts.
By far the best afternoon tea in Dubai (its very rare in Dubai to find a quintessential British afternoon tea)
The best views of the Dubai fountains and Burj Khalifa
Fabulous terraces
Top quality produce
 Everything is beautifully presented
Its also the best place to buy tea and biscuits downstairs on the ground floor retail
Location: Heart of Downtown Dubai, directly opposite Burj Khalifa,
Call: 04 38 82 627
Places that I haven't been to but heard lots of good things about them I wanted to add them to the post
Marina Social
JB's Gastropub
So their you go my list of best British grub in Dubai – have you been to any of these, what are your thoughts?