Being British I  am always on the look out for best places for Fish & Chips in Dubai!
I love Fish and Chips but its not always that easy to find in Dubai, or anywhere else for that matter – many times I have been left disappointed with soggy batter, small portions and fish that is not cooked from fresh.
This led me to write this blog post, I wanted to share my experiences of my best places for Fish & Chips in Dubai
1. Senara
A fab spot located on The Palm, funky relaxed vibe inside, with an awesome outside terrace area offering great views of the Palm – the perfect spot for sun downers. (Check out their happy hours offers.) I actually live next door, and the restaurant was on my "to visit list" but it was some friends that convinced me when they sad they had ordered some fish and chips and it was the best they had had! So I thought I had to check out for myself and I was not disappointed! I received a very decent portion of Atlantic cod encased in a crispy batter, it arrived on top of a funky chopping board, alongside a pot of tripled, yes that's triple cooked fries (another cheat day!) and two shallow dishes filled with creamy mushy peas and tartare sauce. Yummmm!
Read more about Senara here 
Price: Mid to high
Location: The Palm Jumeirah
Book: Link here
2. Fortnum & Mason
Fortnum & Mason is located at the very heart of Downtown Dubai and offers the best of British. So what better place to sit and enjoy Fish and Chips. You will receive a large portion, freshly cooked fish, crispy batter served with golden crispy chunky chips and a portion of mushy peas and sauce! Everything was brilliant  – the service was delightful, caring and friendly but not obtrusive yes the prices are high but defiantly worth it to experience the view, quality, service and atmosphere! The only downfall was that I couldn't have a glass of white to accompany the perfectly cooked white fish!
Price: High
Location: Next to Dubai Mall
Book: Link here
3. Bobs Fish and Chips
Granted the majority of time I order from here, its past 2 am, I am drunk and have cheesy chips and gravy! (This is to die for by the way and i'm not sure if I should say that most time I double up the order because i'm a greedy pig – ophhhs just said, please don't judge!) Back to the fish – yes I have been sober and loved their Fish & Chips. The fish was flaky and tender flesh beneath the perfect honey-coloured batter was devoured within minutes. A must visit for a drunk or sober customer 🙂
Price: Low
Location: Dubai Marina, Business Bay and The Palm
Book: Link here
4. The Fish & Chip Room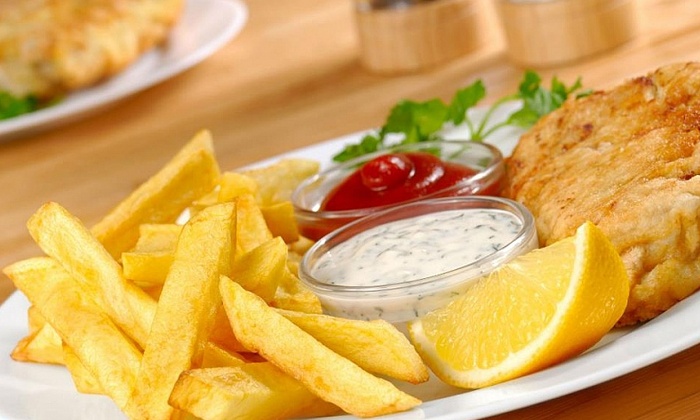 This chip shop dishes offer out staggering portions, with fish the size of a frisbee and enough soft, wholesome chips to satisfy even the most salt-deprived of us. The batter may be wrapped around chunks of hammour, but the lemon zested, crispy batter is pitch-perfect, packed with moisture and authentic flavours. And they do a sweet curry and thick-as-soup gravy familiar to any fry-loving Brit.
Price: High
Location: Jumeirah Beach Residence, Murjan
Book: Link here
5. Bread Street Kitchen
 
Another British Restaurant , located at the Atlantis The Palm. Here, it's more about quality than quantity, as well as thoughtful presentation thanks to the placement of the meal on newspaper. The fish is expertly cooked in a light batter, and served with a stack of chunky chips with fancy minted pea puree, and Gordon's own 'chip shop sauce'. At Dhs110 it's not as casual as some offerings, but not nearly as pricey as others. Given it's novel location – and with cool, clean interiors – it's well worth a try.
Price: High
Location: Atlantis The Palm
Book: Link here
Do let me know your thoughts on the best places for Fish & Chips in Dubai