The power of Aloe Vera
Aloe is often referred to as nature's best gift due to the proven health benefits derived from the gel found inside the leaf of the plant.
Aloe Vera contains over 200 active components including vitamins, minerals, amino acids, enzymes, polysaccharide, and fatty acids – no wonder it's used for such a wide range of remedies! The bulk of the aloe vera leaf is filled with a clear gel-like substance, which is approximately 99% water.
Here is a list of the Top Benefits of Aloe Vera: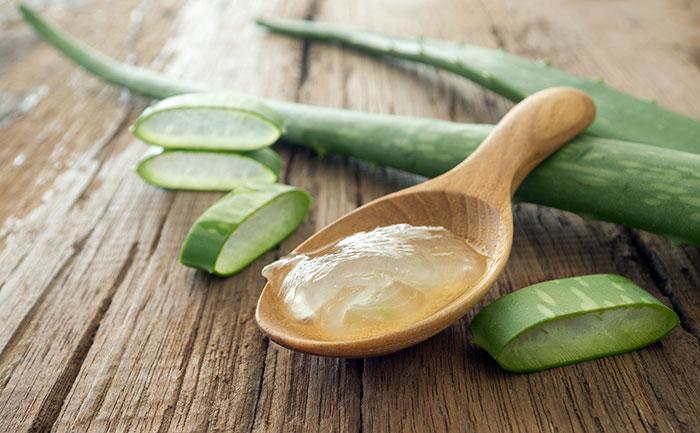 Aloe Vera Is High in Vitamins & Minerals:
Aloe Vera contains many vitamins including A, C, E, folic acid, choline, B1, B2, B3 (niacin), B6. Aloe Vera is also one of the few plants that contains vitamin B12. Some of the 20 minerals found in Aloe vera include: calcium, magnesium, zinc, chromium, selenium, sodium, iron, potassium, copper, manganese.
Aloe Vera is High in Amino Acids & Fatty Acids
Amino acids are the building blocks of protein. There are about 22 amino acids that are necessary for the human body and it is said that 8 of these are essential. Estimates of the amino acids found in aloe range from 18-20 amino acids, with all 8 essential amino acids. Aloe vera also includes quite an impressive range of fatty acids.
Aloe Vera is an Adaptogen
Aloe vera is a well-known adaptogen. An adaptogen is something that boosts the body's natural ability to adapt to external changes and resist illness.
Aloe Helps with Digestion
A properly functioning digestive tract is one of the keys and foundations of health. Aloe is known to soothe and cleanse the digestive tract and help improve digestion. The interesting thing about taking aloe internally is that, because it is an adaptogen, it helps with either constipation or diarrhea, helping to regulate your elimination cycles in whatever way you need.  It's been a great remedy for people with problems such as irritable bowel syndrome as well as acid reflux.
Aloe Helps in Detoxification
Aloe Vera is a gelatinous plant food, just like seaweeds and chia seeds. The main benefit to consuming gelatinous plant foods in your diet is that these gels move through the intestinal tract absorbing toxins along the way and get eliminated through the colon. This will help the proper elimination of waste from your body and help the detoxification of your body.
Cardiovascular Health
Research has shown that aloe vera extract injected into the blood, greatly multiplies the oxygen transportation and diffusion capabilities of the red blood cells.
Aloe Vera is Great for the Skin
Because of aloe's well-known healing properties for the skin, aloe is one of the primary compounds used in the cosmetic industry. It is a known vulnerary, (meaning it helps heal wounds) and is great for applying topically to burns, abrasions, psoriasis and even to bug bites. Aloe acts as an analgesic, acting to help relieve pain of wounds. It's feels especially good to cut a stem of aloe, place it in the fridge and rub it on sun burnt skin – the immediate soothing effect feels like an absolute lifesaver. Aloe is also an antipruritic: A substance that relieves or prevents itching. Aloe vera is an astringent: which causes the contraction of body tissues, typically used to reduce bleeding from minor abrasions. Due to aloe's high water content (over 99% water) it is a great way to hydrate, moisturize and rejuvenate the skin and fits within my general guideline: "Don't put anything on your skin that you wouldn't eat!" Aloe increases the elasticity of the skin making it more flexible through collagen and elastin repair. Aloe is an emollient, helping to soften and soothe the skin. It helps supply oxygen to the skin cells, increasing the strength and synthesis of skin tissue and induces improved blood flow to the skin through capillary dilation.
 Aloe Helps Reduce Inflammation
Aloe Vera contains 12 substances, including B-sisterole, which can help to slow down or inhibit inflammation.  This may be able to help with painful joints due to stiffness and help improve joint flexibility.
Aloe Vera Intake Precautions:
This plant is incredibly medicinal, yet there are some cautions against long-term use. Just because a little is beneficial, doesn't mean that a lot is more beneficial. This is an incredibly potent plant and should be used with a level of respect for its potency. Long-term use can lead to loss of electrolytes, especially potassium.
Tip: Avoid taking aloe internally during pregnancy, menstruation, if you have hemorrhoids or degeneration of the liver and gall bladder.
My top Aloe Vera product:
The below are my top 3 products that I purchase from Forever Living – they are all amazing!!!
Aloe Refreshing Toner
Sonya® Aloe is an extremely refreshing toner with white tea and cucumber extract! It not only  provides moisture to help keep your skin properly hydrated but smells amazing! I apply this product mainly for that (excluding the benefits it actually brings to my skin!)
No matter how many times I apply I cant help but smell, go ohhhhhh and smile!
---
Aloe Vera Gelly
 Aloe Vera Gelly is a rather thick, translucent gel containing humectants and moisturizers. It absorbed into the skin supper quick and soothes instantly.
I use this product on two place: My dry hands and the bottom of my feet – it instantly transforms my dry skin into a much smoother,  moisturized, condition. To date I have not found any other products or brands that have such instant and long lasting results
Note: Aloe Vera Gelly also provides temporary relief from minor skin irritations.
 Aloe Body Toning Kit
Indulge yourself with an at-home body wrap designed to help trim, tone and tighten, minimizing the appearance of cellulite it actually works!