The brand new development at Jumeirah Fishing Harbour
This development brings to Dubai a new collection of waterfront restaurants. Inside the newly launched Al Souq, you'll find four eateries . Back outside at the harbour, wander down the jetty and you'll find more new restaurants, all sitting on the water's edge. From Brazilian to Thai to raw and vegan desserts, this little dining district may only house a handful of venues but the variety on offer is exciting.
Read on to discover all the amazing restaurants inside The Jumeirah Fishing Harbour
Located inside Al Souq
Omnia Gourmet
Cuisine: Farm-fresh, healthy food
Decor: This café has original and enticing interiors, described by chef-patron Rowe as a 'secret garden'. Amid cosy sofas, covered in mountains of cushions, the table-tops are inset with beautiful butterflies and lush greenery floats down from the ceilings like creepers.
The Menu: The majority of items on the menu are sourced from the region, including UAE produced burrata served with locally grown heirloom tomatoes. As well as local, organic ingredients, the menu boasts a free-from concept, including fat-free cooking and an extensive patisserie counter using raw and vegan recipes.
Call: 04 343 7181
Mint Leaf
Cuisine: Indian 
Decor:  elegant and unique looking venue has an overall appearance of simple white across the walls and furniture, but decorated with an intricate, cut-out-style lacy pattern. On top of this elegant look of white lace, colour is employed to sophisticated effect, with a few decorative plates hung inside arched alcoves, colourful glass chandeliers and hammered-brass lanterns hanging from the ceiling
The Menu: A classic selection of Indian dishes from across the north and south of the country.
Tip: Not to be confused with the new DIFC-based Indian restaurant of nearly the same name (Mint Leaf of London, Dubai)
Bait Misk Restaurant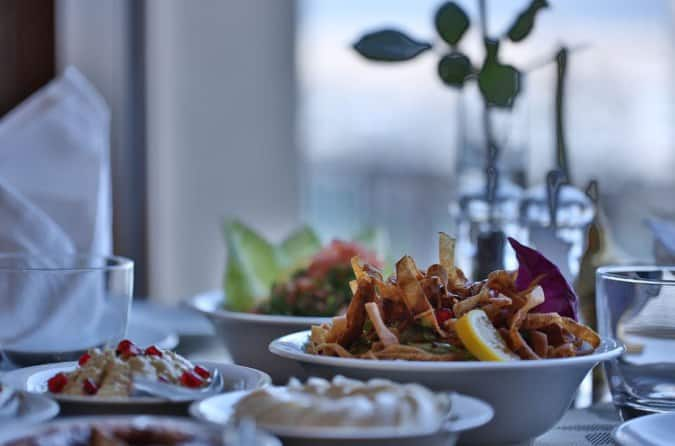 Cuisine: Lebanese.
Decor:  A mixture of wooden furniture, stone tiles and what look like map-reliefs (in vintage, hand-drawn style) decorating the walls, the restaurant is cosily rustic and feels atmospheric.
The menu: A selection of classic Lebanese mezze and snacks, including a breakfast menu, plus Arabic bread and manakish freshly baked in a brick oven.
Tip: Sit by the window, and you can enjoy your meal along with views of the harbour outside.
Call: 04 343 7332
Along the Fishing Harbour
Charm
Cuisine: Thai restaurant sits right at the end of the jetty walkway along which these restaurants are located.
Decor: Charm has arguably the very best views in the entire area, with the upstairs outdoor terrace offering 360-degree vistas of the surrounding sea and shore. We recommend grabbing a table here when the weather cools down. Besides al fresco dining, inside the restaurant is decorated with a moody mix of gold and red, accented with gold-coloured artefacts from Thailand.
The menu:A fairly classic, varied and affordable list of Thai dishes, served for the most part by Thai waiting staff.
Call: 04 344 8895
Boteko Brasil
Cuisine: Brazilian café,
Decor:
The menu: Items includ gnocchi (made with chickpeas, rather than potato as per the traditional Italian recipe), teamed with Brazilian favourite carne seca (sundried beef). Also on the menu, starting after Ramadan, is a casual Brazilian brunch on Fridays (from 11am-3am), as well as Brazilian national dish feijoada (a stew of black beans and meat) served as a buffet on Saturdays with traditional sides.
Call: 04 385 6668
Tip: Try the casual Brazilian brunch on Fridays (from 11am-3am), as well as Brazilian national dish feijoada (a stew of black beans and meat) served as a buffet on Saturdays with traditional sides.
I discovered Jumeirah Fishing Harbour development and restaurants for the first today, with a friend, totally by accident but we where both so glad we did! I loved it so much that I have spent the last hour writing this post. I can strongly urge you to give it a go.
This was my lunch snap:
A healthy juice and burger but with out the bun – watching those carbs!!
And of course I cant venture into a new area with out a snap – showing my outfit of the day!!
Location:
Al Souq and Jumeirah Fishing Harbour is located off Jumeirah Beach Road in Jumeirah 2. From the Burj Al Arab, make a U-turn at Al Urouba street, then take the first right at the sign for Jumeirah 2.