Is it just me or is it nice to go for a drink post shopping and enjoy a lovely glass of wine!? I recently planned a trip to Mall of the Emirates on a Thursday night and found myself asking the question what Restaurants in Mall of the Emirates that serve Alcohol. If you have ever thought the same then this post might help you 🙂
---
Located inside the Mall:
Inspired by the charm of the St. Tropez neighborhood bistros, this outlet will take you on a journey of French specialties, brought up to date in a way that is conventional, yet contemporary, chic and trendy. The setting at St. Tropez Bistro is fashionably tasteful and unpretentious, the warm colours of the finishing encouraging you to unwind and extend your visit. The bistro is spread between three areas, a current and elegant lounge area with a quirky twist, a more refined Parisian-style bistro area, and a light and casual cafe-style terrace.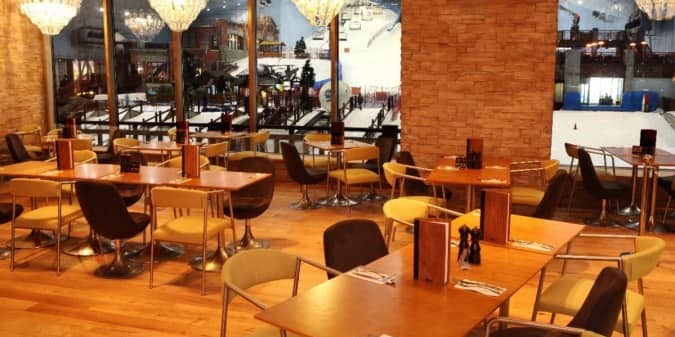 Inspired by the fun and atmosphere of European ski resorts, Après is a sophisticated lounge, bar and restaurant that embodies Alpine ski-lodge chic. With its views over the ski slopes and its cool, sophisticated ambience, Après takes you on a surreal journey from the heat of Dubai to the snow of the Alps. Après is not just renowned for its deliciously addictive cocktails.
Salmontini Le Resto is a trendy, fine dining restaurant, that stays true to its values, sparing no cost when it comes to quality and no end when it comes to service. Although Scottish smoked salmon remains the signature item at Salmontini, the restaurant also excels in seafood specialities, carefully-prepared meat dishes and sushi.
---
---
Located inside the Sheraton

A lounge for the discerning gentlemen, Vantage offers an ideal location to watch the game over gastropub cuisine and craft hops
With an multiple screens to view the sports, rustic cuisine and a soothing ambience, Vantage is the hotel's signature bar where guests enjoy specialty drinks prepared by the mixology artisans whilst watching the sunset or stargazing on the terrace from one of our lounge seats with shisha. Sporting events will be projected on the plasma screens and big screen.
---
 Located inside Kempinski Hotel
Authenticity is the name of the game at this eatery, which boasts a traditionally designed interior and an entirely Spanish staff. Salero has a menu bursting with tapas so sharing is key to enjoying a meal here. Try the rabo de toro (oxtail stew with potato and carrot), the berenjenas a la miel (fried aubergine with cane honey) and the staple patatas bravas (fried potatoes with a spicy tomato sauce).
---
Olea presents the most authentic Levantine cuisine and a complete Levant dining experience that will delight all the senses. The restaurant proudly boasts passionate knowledgeable Levant chefs who adopt traditional cooking methods and present the signature dishes in a dazzling presentation tableside. Add to this the authentic tastes, ingredients and aromas of Levant home cuisine and the
If I have missed any Restaurants in Mall of the Emirates that serve Alcohol please comment 🙂