What to wear to a pool party!
Packing for my holidays this week, going to Greece, I have been thinking of outfits to wear for a Greek Island party and also slowly getting ready for the cooler weather to arrive here in Dubai (enter  numerous pool and beach parties)  I thought a useful post could be ideas for outfit on what to wear to a pool party! …
Here are my top tips in a nutshell:
Don't go over the top – yes we want to look fit but always keep in mind this is a pool/beach party you are not getting ready for a wedding!
Make up – The above applies again, Keep to a minimum. Yes we feel better with makeup on, and I for one look better with it on but not when it is all dripping off my face and my eyes now represent those of a crying panda!
Shoes – Its a big no to heel, it looks like your trying way to hard – Just don't – that's all I'm going to say on the matter!
Hats – Yes!  I think theses are a great way to look chic and they also cover up limp hair (which is normally the case for me after an hour in the sun)
Cover up – As for the actual clothing go for something that is easy to get on and off – if all your mates decide to go in the pool and your spending half an hour trying to get your funky jump suit off #Fail You all need something that you feel comfortable and feel nice on your skin in the heat. Also think about kitting it back on with potential wet skin!
Swimwear – You must consider that which will hold you in! I have slightly bigger boobs than most and tend to jump around after a few drinks so a swimsuit that wont fall down is pretty essential!! Especially in Dubai
Bag – You need something big enough to carry all your essentials
Here is what I wore earlier this year to Edan
Sorry the pictures are a bit pants, these where snapped quickly with my husbands phone before we left and I didn't have time to check them. He doesn't know the 101 to taking pictures (bless him) and I didn't see the sun behind me! I cant be bothered to edit them but you get the idea (nothing like a bit of honest blogging!)
Note on editing – These can all be lightened and enhanced so they look much brighter -Should also have cropped the images to get rid of the dead space!
Pool party outfit inspiration:
1. Casual shorts and top
An easy and quick outfit to wear is a striped blue and white kaftan or short top (I would swap heels for flats though)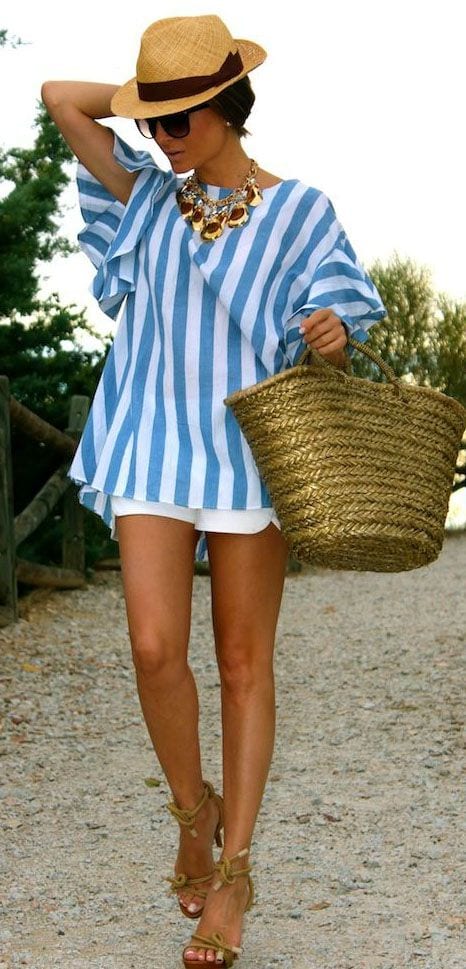 2. Knotted tea
A quick way to transform a boring t-shirt is by making a knot out of it. This changes your plain t-shirt into a funky top for a spring event. Pair it with mini shorts and a large hat and you're complete!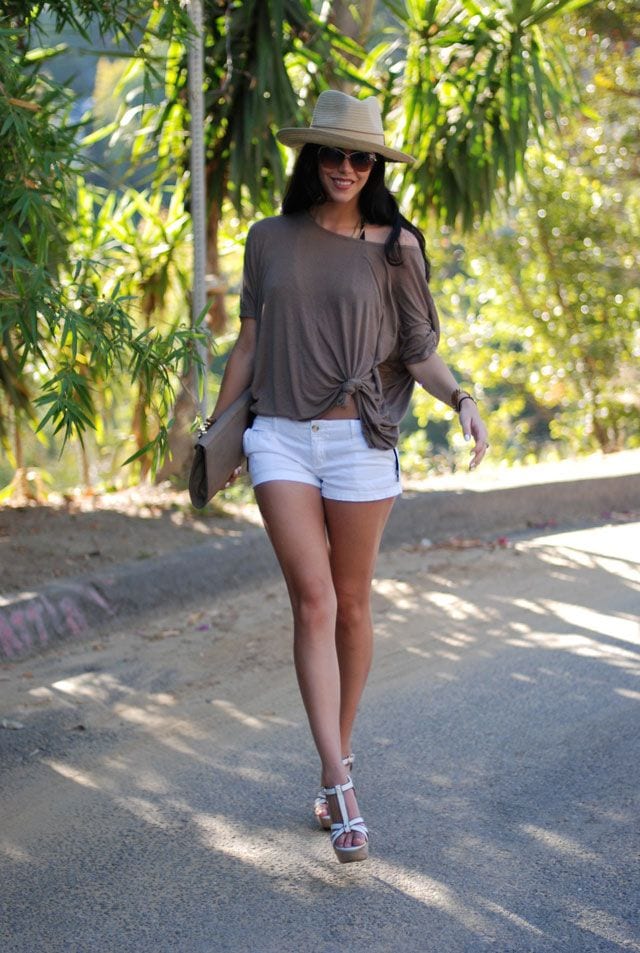 3. Floral Fashion
Floral prints are making their way in every aspect of fashion. A great look by the pool side is to wear floral outfits. These can be paired with a plain black bikini and mini shorts. Looks great for a gypsy style outfit.
4. Plain White Dress
Nothing stands out during the summer season like a plain white dress, paired with rimmed sunglasses.
5. Sunglasses are the must-have accessories
Protect your face and don't be afraid to let your sunglasses be the main event. Choose from aviator, cat eye, oversized, or round frames. Don't be afraid to wear colored frames.