DIY T-Shirt Knot Dress
A Shakuhachi lookbook became an amazing point of DIY inspiration. With the help of the tutorial shared by
APairAndASpare
, you will be able to make this lovely dress not need to spend money on Shakuhachi`s design.
What you will need:
-blue large and long enough jersey t-shirt;
-bleach;
-scissors;
The bleach part:
1. Get the t-shirt wet through, then ring some of the water out.
2. Squirt the bleach liberally on random areas of your t-shirt, leaving some bits uncovered. Rub the bleach in slightly, scrunch the t-shirt up a bit, squirt on some more bleach if you like.
3. Leave to soak in, but verify the colour every minute or so before you are pleased with it.
4. Rinse off the bleach and then put the t-shirt in the washing machine for a cycle.
The cutout part:
1. Cut the shirt in half horizontally just under your ribs, to obtain two pieces, a 'top' and a 'bottom'.
2. Cut a tiny hole in the bottom middle of top half, and make two ties in the bottom half by cutting a 5cm vertical slit in the middle.
3. Fix to the bottom half by tying a knot through the hole in the top, using the ties you made in the bottom half. Finally, tighten the top half around the ribs by tying either a knot at the back or front. And Voila!
Such a cool effortless chic look
Take a look at other adaptations of the DIY T-shirt Knot Dress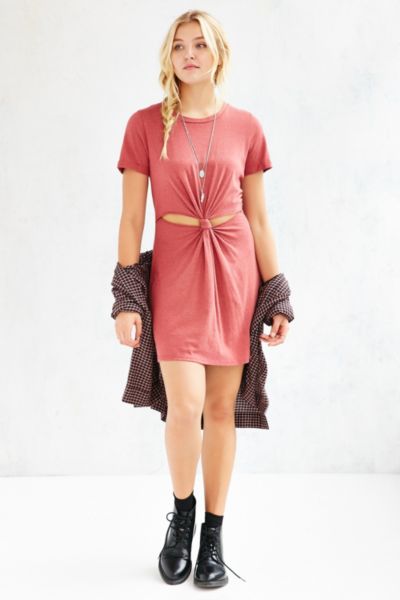 Related posts: